I think the front of the house is done. For now ;-)
We have
added shutters
and
carriage accessories to the garage
. The last thing I wanted to do was update the front door. At first I really hated the door; it looked weird to me….too unique or something. But with time I think it started to grow on me and I liked that it was weird. Maybe it became charming to me? I don't know, but instead of buying a new door, I decided just the paint the front door.
After scrolling through Pinterest I found
my inspiration
(and seriously this is no easy task since Pinterest inspires me to be a dynamic chef, over-achieving supermom to my hypothetical children, and the next Julian Michaels; it's too hard to stay focused!).
But, I just loved the classic look of this door.
I purchased some semi-gloss black interior/exterior paint. After cleaning the door I applied two coats and that was that.
Here is the door, before & after.
By the way, I've got to thank Joy again for the fabulous door mat for a housewarming gift! It's so perfect for us!

Just a couple layers of paint is a super easy way to make a big impression, and we all know I'm all about that lol
With the door done it was time to update my wreath. I swear this wreath just keeps showing up! You have seen this
monogrammed wreath for fall
…
...and when we moved in
…and now you're about it see it for spring. lol I never hot glue anything to it, I just switch out the flowers or ribbons for each season because I'm
cheap
frugal like that. For the spring I bought 3 white hydrangeas, 3 blue hydrangeas, and a roll of burlap. Everything was at least 40% off at Hobby Lobby and I used a coupon off of the website for another 60% off. That is a bargain people! I trimmed the stems and stuffed them into the left side of the wreath. I wrapped the burlap around the wreath and used some to tie on the
monogram
. That's it.

How do you think it looks on my "new" front door?
Totally different, right?
We've now updated the front of the house with several finishing touches:
shutters
,
garage accessories
, painted front door, and new wreath. Now it's time for me to start sharing some of the updates from inside. Are you ready?
We love all of our Team Hawley projects!
Do you like to do projects around your home too? Is there a project that you think we should try next?
Happy Monday y'all!
Linking up with: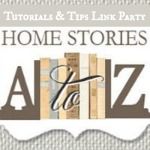 and at Liz Marie's Hop To It Party
Linked up with
Huckleberry Love- Much Ado About Monday Link Party
The Dedicated House- Make it Pretty Monday